Empty Nest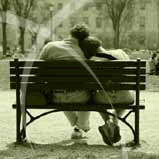 Remember when your babies were completely dependent on you? It seems like yesterday. But now they €™re on their own and you €™re alone. No screaming kids, no messes to clean up the silence is deafening. When children grow up and move out, many parents face an extreme sense of loss and change in identity. Being pro-active about the transition can move you toward acceptance of this new season of life. It €™s a great time to rediscover your spouse. Exciting possibilities accompany the second half of life.
Background Information
An Exciting Time
How do you know if you've entered the second half of life?

The Job That Lasts a Lifetime
Just because the kids leave home, a parent's job isn't necessarily done.

Questions and Answers
Can you help me face empty nest syndrome?
Answer
Stories
How We Embraced Our Empty Nest
After our children left for college, we needed to reassess our own relationship.



If you've been through an experience related to this topic, we invite you to share your story with others.
Share Your Story
Other Things to Consider
Where is God in the Midst of All My Troubles?
So many cry out to Him in times of need, but is God really listening? And, more important, does He care?

Life Pressures: Working Moms, Stay-at-Home Moms
Relationships: Blended Families, Divorce, Parents and Adult Children, Caring for Elderly Parents