Parents and Adult Children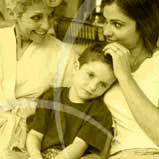 You €™ve spent your life teaching, training and protecting your child; now it €™s time to €œgive him wings. € For many parents, the shift from being the primary influence in a child €™s life to releasing him to adulthood isn €™t easy. Hopefully you €™ve been preparing him for independence from the start. Now that he €™s on his own finding his niche, building a career, marrying, becoming a parent you €™re no longer his authority, but friend. By setting healthy boundaries, you can enjoy this new role, while offering the love, guidance and insight only a parent can provide.
Background Information
Growing Up and Letting Go
Leaving the nest is hard on parents and children alike.

Questions and Answers
Our 24-year-old daughter came home from college and moved back into her old bedroom. Now, three years later, she's still there. She doesn't work, she has no ambition or direction, and she seems perfectly content to freeload on her dad and me. I know she ought to get on with her life, but what can I do? I can't just force her out, can I?
Answer
I'm in my mid-20s and the youngest of three children. My mom seems to refuse to recognize that I'm an adult now. How can I transition from her child to her peer/friend?
Answer
Stories
Coffee Can Wait
When my son was born, I prayed he would marry a good Christian woman. When he did, my daughter-in-law relationship with me turned out differently than what I expected.

You Can Go Home Again
As parents reach their later years, many children feel the tug to move closer to them.



If you've been through an experience related to this topic, we invite you to share your story with others.
Share Your Story
Other Things to Consider
Where is God in the Midst of All My Troubles?
So many cry out to Him in times of need, but is God really listening? And, more important, does He care?

Love & Sex: Dating, Living Together
Transitions: Getting Married
Abuse & Addictions: Pornography and Cybersex, Physical and Verbal Abuse