Caring for Elderly Parents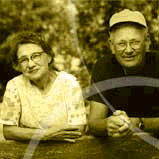 Your mom and dad used to take care of you. Now it €™s your turn. Watching a parent succumb to the ills of old age is painful. When you €™re responsible for medical and financial decisions, it can be downright overwhelming. There are the nagging worries: Did Mom take her medicine? Should I get Dad €™s heart checked? What did the doctor mean by €śpotentially harmful €ť? And the big transitions: Should we bring him to live with us, or would a nursing home be better? Can he afford the medical care he needs? What if he resists what €™s best? This may be one of the toughest things you €™ve faced, but in the end, it €™s worth it. If you €™re feeling drained and need some encouragement, you €™ve come to the right place.
Background Information
Advance Medical Directives
This comparison between Living Wills versus Durable Power of Attorney can help you make informed health care decisions for your aging parent.

Aging or Alzheimer's
Regular signs of growing older often get paralleled with Alzheimer's. Find out the difference.

Caregiving Support Systems
Providing for an aging parent can be stressful. It's important to be surrounded by others who can help.

Help From Hospice
For terminally ill patients, hospice is often a welcomed care option.

Questions and Answers
How can we show concern and respect for the elderly?
Answer
Stories
Making My Mother's End-of-Life Decision
If Mom lived, would she want to be a "vegetable" the rest of her life? What if she never came out of her coma? What would she want us to end her life?

Full Circle
From child to parent, one woman reflects on caring for her mother.

The Long Goodbye
A daughter faces the harsh reality of her mother's Alzheimer's disease and the difficulty of loving the stranger her mother has become.

You Can Go Home Again
As parents reach their later years, many children feel the tug to move closer to them.



If you've been through an experience related to this topic, we invite you to share your story with others.
Share Your Story
Other Things to Consider
Loneliness and Depression Afflicting the Elderly
If you know an elderly person who you suspect is clinically depressed, don't brush it off. Do whatever is necessary to get them the help they need.

Where is God in the Midst of All My Troubles?
So many cry out to Him in times of need, but is God really listening? And, more important, does He care?

Love & Sex: Dating, Living Together
Transitions: Getting Married
Abuse & Addictions: Pornography and Cybersex, Physical and Verbal Abuse